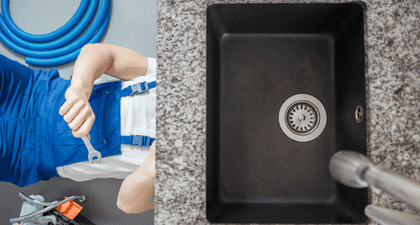 At Cornwell Plumbing, our team of plumbing contractors provides a variety of services to help you achieve your home improvement goals. We offer expert plumbing contractor services in Pittsboro and Hendricks County, IN. Whether you need the plumbing in your bathroom or kitchen to be remodeled or want to repipe your entire plumbing system—we've got you covered!
We specialize in plumbing construction, renovation, and repiping services. Our team is highly trained and experienced, so we can give you the right solution for what it takes to complete your job.
Most Popular Plumbing Contractor Services Pittsboro and Hendricks County, IN
New Residential Plumbing Construction
We can handle any plumbing job for new residential plumbing construction needs. Our licensed plumbers will help you plan, design, and install your new plumbing system in a professional manner. From basic fixtures to complex piping systems, we have the right expertise and tools to make sure everything is installed correctly.
Existing Residential Plumbing Remodeling
Have you been thinking about remodeling your existing plumbing system? We hear you! At Cornwell Plumbing, we provide plumbing remodeling for your bathroom and kitchen. We'll work with you every step of the way to ensure that your project is completed on time and within budget.
Residential Plumbing Renovation
Is your current plumbing system outdated? If so, we can help you choose the right fixtures and pipes that are not only high-quality but also more modern in appearance that fit your home well. We can help you get the job done right the first time, whether it's a simple faucet replacement or a complete overhaul of your home's plumbing system.
Why Choose Cornwell Plumbing?
Cornwell Plumbing has been providing plumbing and plumbing contractor services in  Pittsboro and Hendricks County, IN since 1989. Whether you're looking for a general fix, planning to remodel your kitchen or bathroom, or building a new home from the ground up—our expert plumbing contractors will ensure that your project gets done right. 
Need a plumbing contractor you can trust? Give us a call at (317) 892-4044 today.
6 Different Reasons You Should Hire Us
Why Choose Cornwell Plumbing?
Cornwell Plumbing has been in business for 30 years serving Pittsboro and Hendricks County, IN. Our experience has helped us become one of the most reliable plumbing companies around. We provide honest, professional and reliable services at a fair price. If you're looking for a dependable plumber you can trust, give us a call at (317) 892-4044.
We will always use high-quality materials and supply you with trusted products from leading manufacturers.